Description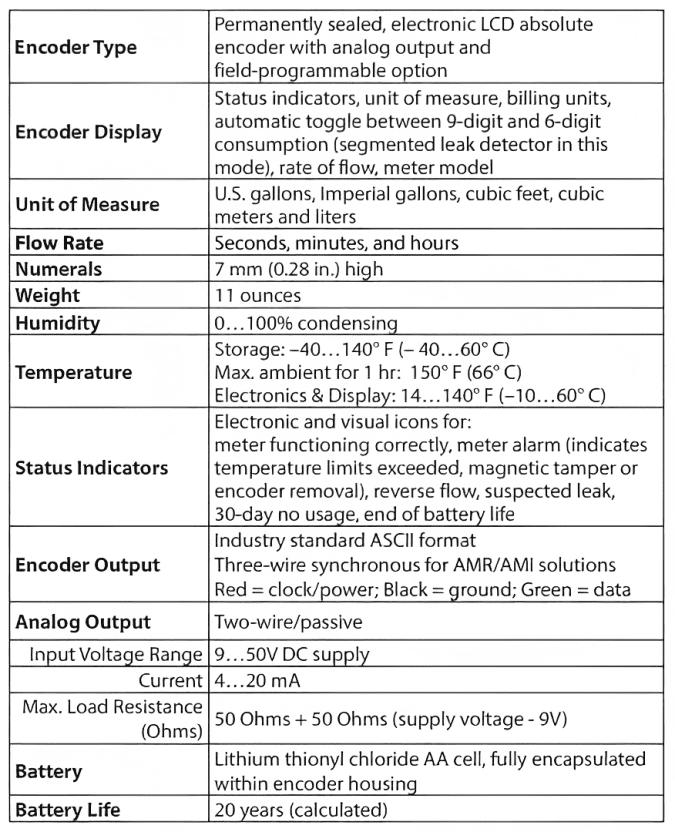 Field Programmable:
The HR-E LCD 4-20 encoder comes standard as factory programmed, with the option for field programming the unit of measure, meter type, meter model, digit resolution from the encoder, billing units, rate-of-flow time and units, and the analog output. Programming is performed through the IR port via a computer using the Programmer software, version 2.0.0 or greater.
Output Resolution:
Standard encoded output is 9 digits. The 4-20 signal from the encoder is proportional to the flow of fluid passing through the meter. Power for the 4-20 output signal device can be obtained from a 9…50V DC control loop. The default 20 mA setting of the signal is defined in the resolution chart.
Status Indicators:
Icons on the encoder face indicate the encoder status and alarm conditions. Status indicators are sent as part of the encoder's extended message to AMR/AMI systems such as ORION Cellular, Fixed Network, and Migratable endpoints that are capable of receiving an extended message. The details can also be read through an IR interface.
Mounting:
The fully potted encoder assembly has a bayonet mount compatible with all Recordall Disc, Turbo Series, Compound Series, Combo Series, and Fire Series meters and assemblies. The bayonet mount positions the encoder in any of four orientations for visual reading convenience. The encoder can be removed from the meter without disrupting water service.
Magnetic Drive Communication:
The encoder detects the movement of the wet side meter magnet with magnetic sensors to provide reliable and dependable meter monitoring. Tamper-resistant Features: Unauthorized removal of the encoder is inhibited by a tamper-resistant Torx seal screw. Torx seal screws are provided as standard accessories. Optional proprietary tamper-proof screws are also available.
In addition, the encoder is resistant to magnetic tampering. The encoder detects an attempted tamper—as well as encoder removal—and displays a tamper alarm in either situation. Approved endpoints capable of receiving the alarms, such as ORION Cellular, Fixed Network, and Migratable endpoints, can then report the tamper condition to the meter reading software.
Construction:
The housing of the HR-E LCD 4-20 encoders is constructed of an engineered polymer enclosure and a polycarbonate lens. For long-term performance, the enclosure is fully encapsulated, weatherproof, and UV-resistant to withstand
harsh environments and protect the electronics in flooded or submerged pit applications. A patented epoxy potting comprises the encoder bottom. Due to this unique sealing, the HR-E LCD 4-20 exceeds all applicable requirements of AWWA Standard C707.
Wire Connections:
The encoder is available with dual output wire connections. The encoder side wire is available with an in-line connector for easy connection to AMR/AMI endpoints, or a flying lead for field splice connection. The 4-20 side is available with a flying lead for easy connection in the field.