Description
Multi-parameter smart water quality monitoring
ATi's MetriNet solutions are a pioneering, field-proven breakthrough in water quality monitoring. With 16 parameters to choose from, the modular nature allows unique monitoring solutions for individual site requirements across utilities, food & drink, industrial, healthcare, leisure and events.
Available as both street level and below ground installations, MetriNet's smart sensor technology offers sustainable solutions with zero water wastage*, helping to meet environmental targets, drive down complaints and create real-time awareness of water quality throughout the network. By using actionable insights, MetriNet ensures the efficient delivery of high-quality water in an environmentally friendly way.
Deploying a neural network of MetriNet's digital smart M-Node sensors at critical locations throughout the water distribution system offers customers continuous, real-time assurances and evidence-based proof that the water is safe. MetriNet will predict events, loss of disinfection, taste, odour, discoloration, bursts or leaks, providing a network that measures, thinks, predicts and takes actions. Timely warnings and analysis of network anomalies then allows operational staff to react before costly failures develop.
Street-Level Smart Water Quality Monitoring
ATi's tried and trusted MetriNet technology has also been developed into an innovative Street Level Smart Water Quality Monitoring solution, offering a new way of delivering ultra-low powered, real-time monitoring for the creation of intelligent, optimised, smart water networks.
Housed within a serviceable, robust, flame retardant and vandal resistant telemetry bollard, this new solution enables distributed water quality monitoring without the concerns associated with below ground-level installations.
MetriNet's KIWA approved, smart technology also allows samples to be immediately returned back to the network*, resulting in zero wastage. There is no cumulative leakage as the sampled water re-joins the mains flow.
This low-powered system can be installed any application that requires water quality monitoring, including water distribution networks, working alongside acoustic and transient systems. Our monitors are also a vital tool in helping detect and prioritise leaks in a network, enabling flexible, pro-active and strategic network management.
*Requires 0.5 bar difference between inlet and outlet.
Features & specifications
Accepts up to 8 M-Node sensor inputs
Stores data at user defined intervals from 0.1-60 minutes
Stores over 300K values, or 30 days of data for 8 sensors at 1 minute data interval
Options for cellular modem, Wi-Fi, or wired Modbus, Ethernet/IP, or Profibus DP
Internal Micro-SD RAM card provides data backup in the event of communication problems
Addition of a low power solenoid valve allows intermittent sample flow
Sensor diagnostics report problems in clear message form
Zero and span data stored internally so calibration can be done anywhere
Internal clock records total run time on the sensor
Calibration timer can alert users when calibration is due
Two alarm set points are available
Due to it's modular build flexibility, individual M-Node sensors and RTU's can be specified creating unique and bespoke monitoring solutions for:
Street level monitoring
Mains Conditioning
Chlorine Decay Modelling
Leakage
Flow Reversal
Flushing
Network Resilience
Legionella
Renal Dialysis
HVAC
Food and Beverage
M-Node digital water quality sensors
At the heart of the MetriNet solutions are ATi's industry-leading M-Nodes, complete smart, digital sensors and transmitters housed in miniaturised bodies with the ability to measure 16 water quality parameters.
M-Nodes are equivalent to traditional online instruments and are connected to the water supply using a purpose designed 'click-connect' flow cell arrangement. M-Nodes are connected in series to minimise water usage and can run at pressures up to 6 bar. M-Nodes are ultra low-powered and run autonomously for years at a time on small batteries. Alternatively, they can be powered from a local plc or telemetry system.
Flexibility is key with M-Nodes, they can be connected to any data gathering system. The modular nature enables users to assemble a bespoke monitoring package that fits individual site requirements. All M-Nodes plug directly into the MetriNet system and are powered directly from the communications bus.

MetriNet Q51 Portable Controller
The Q51 is a battery-powered device that supports our digital M-Node water quality sensor applications. It can be used with our MetriNet smart water quality system to calibrate or configure individual sensors, or as a complete stand-alone data logger to run M-Node sensors directly. The controller communicates with the Modbus RTU protocol.
Each M-Node is a complete Modbus smart transmitter with a submersible multi-pin connector on the back. If only one sensor is being used, the sensor is connected directly to the controller. If more than one sensor is used, the controller plugs directly into the multi-sensor bus bar, allowing for easy access to all M-Node sensors.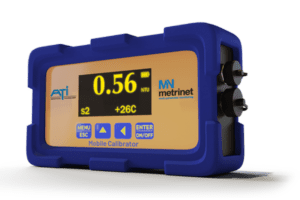 MetriNet User Interface (MUI)
For a complete solution, M-Nodes can also be connected to the MetriNet User Interface (MUI). The MUI connects to up to 8 M-Nodes and connects to the outside world in via any 'ftp' based system – operating as independent modules that can be linked via a communication bus. The MUI also has on board data-logging with vast data storage capabilities. All M-Nodes plug directly into MetriNet systems and are powered directly from the communications bus. M-Nodes may be added or removed as needed and removal of an M-Node will not affect system measurements. Sensor and bus connectors are IP-67 rated for maximum signal protection.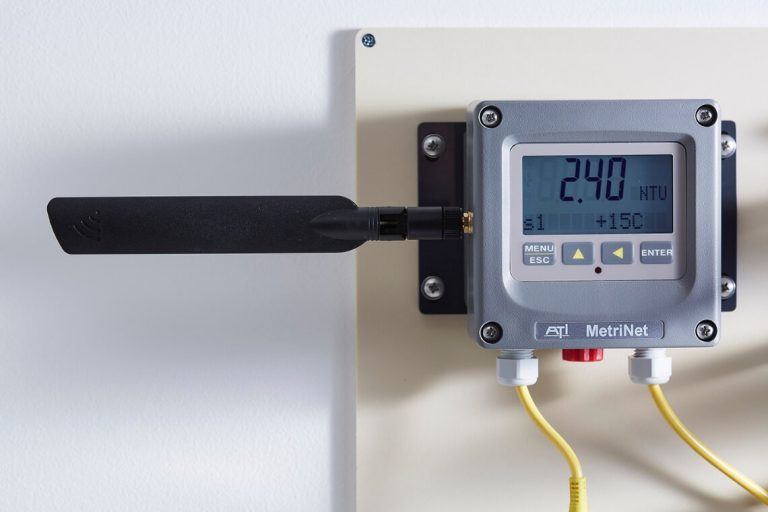 Network digitalisation with MetriNet
Watch our WRAS approved MetriNet smart water quality monitoring solution come together. Delivering continuous and reliable data through its ultra low-powered, digital water quality M-Node sensors .
Frequently Asked Questions
How many water quality parameters will ATi's MetriNet monitor?
The ATi MetriNet smart water quality solution can monitor 8 different parameters at once from a total selection of 16.
Can I tailor a MetriNet solution to suit an application?
Yes, all MetriNet smart water quality solutions are modular. This allows for bespoke units to be built with the flexibility to add further parameters at a later stage.